MD3T™ Multi-Directional Tibial Tubercle Transfer System
For Medial, AMZ, Anterior, Distal, and Proximal Transfers.                                                                
System Designed By:
Alan C. Merchant, MD
Clinical Professor, Emeritus, Stanford
Staff Surgeon, Emeritus, El Camino Hospital
Mountain View, CA

Flexible and Simple.
A simple set of instruments allows for precise creation of two compound wedges of bone. Transposing these wedges medializes the tubercle.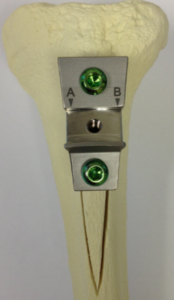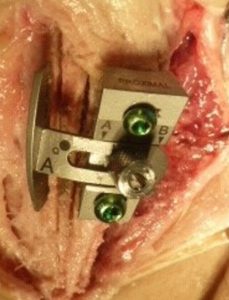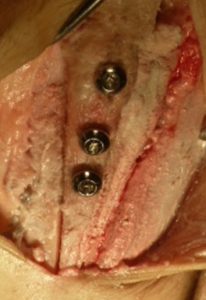 ---
"Because of the surgical benefits of the MD3T procedure relative to the AMZ, I have no doubt that this approach will ultimately become the new world standard. The MD3T system will allow the average orthopedic surgeon to safely and reproducibly perform a tubercle transfer."
Scott F. Dye, M.D., University of California at San Francisco

---
The MD3T Story…
Transferring the tibial tubercle (TT) to treat patellofemoral disorders is a time-tested and well-established surgical technique. Medial transfer has been practiced since 18881, and anterior transfer was introduced by Maquet in 19762. In 1983, Fulkerson combined these two transfers in the antero-medialization (AMZ) technique3. In addition, distal transfer to correct patella alta, and lateral transfer to reconstruct an over-medialized TT, are occasionally indicated. The Multi-Directional Tibial Tubercle Transfer (MD3T) System from Kinamed has unique advantages: it enables the surgeon to move the TT in multiple directions in a precise, predictable, and independent manner, while preserving greater cortical integrity to help reduce the risk of a tibial stress fracture. The concept of the MD3T Technique4,5 is simple:
• A compound wedge of bone containing the Tibial Tubercle and its attached Patellar Tendon is created, the "Primary Wedge."
• For corrections that include medialization, a "Secondary Wedge" of bone is created medial to the Primary Wedge.
• The Primary and Secondary Wedges are transposed, thus transferring the Tibial Tubercle medially. The width of the Secondary Wedge determines the medial transfer distance.
• For medial transfer, fast-setting bone void filler or bone graft is used to fill the space lateral to the transposed Wedges prior to fixation.
• For antero-medial transfer, additional fast-setting bone void filler or bone graft is placed lateral and posterior to the transposed Wedges prior to fixation.
• The medial and anterior transfer distances can therefore be planned independently of one another.
• Unidirectional anterior, distal, and proximal transfers involve the repositioning of the Primary Wedge only (a Secondary Wedge is not created).
---
1. Roux (1888) Luxation Habituelle de la Rotule. Rev Chir Paris. 8:682-689.
2. Maquet (1976) Advancement of the tibial tuberosity. Clin Orthop. 115:225-230.
3. Fulkerson (1983). Anteromedialization of the tibial tuberosity for patellofemoral malalignment. Clin Orthop.
177:176–181.
4. Merchant (2001) Patellofemoral Joint Disorders. In: Chapman's Orthopedic Surgery, 3rd ed, pp. 2334-2335, edited by M.W. Chapman. Lippincott Williams & Wilkins, Philadelphia.
5. Merchant et al (2016) Multi-Directional Tibial Tubercle Transfer Technique: Rationale and Biomechanical
Investigation. Journal of Surgical Orthopedic Advances. 25(3):157-164.
---
Patents
U.S. Patents 7,794,466 and 8,828,010. Additional U.S. and International Patents Pending