SuperCable®
This revolutionary polymer-based cerclage system is designed to solve many of the inherent problems of traditional monofilament wire and cabling systems.

Features and Benefits of the system include:
• Fatigue strength superior to metal cables and wire
Leads to Reduced Complications from breakage.
• Elimination of cable-generated metal particle debris
Metal debris has been shown to greatly increase wear in adjacent total joints.
Metal cable and wire fragments have been shown to migrate throughout the body.
• No sharp cable ends
Won't irritate patient tissue.
Won't cut surgeon's gloves or cause "sharps injury."
• "Iso-Elasticity"
Provides long-term dynamic compressive loading across bone fragments.
Offers the possibility for better healing and increased construct strength.
•  Unique "crimp-less" locking mechanism
Cables can be easily re-tightened.
Saves OR time.
Reduces the number of cables required.
• Cables are easy and quick to manipulate within the wound.
• No metal cable contacting metallic implants.
Eliminates concerns regarding dissimilar metals.
No need for hospital to stock cables of several different materials.
• Radiolucent Strands
Easier visualization on post-op x-rays.
---
Simple Instrumentation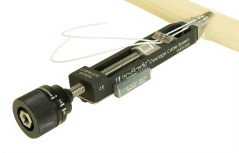 Tensioning instrument allows for precise tightening and locking of cables as well as sequential retensioning of previously placed cables.
---
Fatigue Strength Testing
The system is now available with trochanteric grips and cable-plates featuring screw holes with Agilock® Technology allowing placement of locking or compression screws in any screw hole.
---
The "Safety" Cable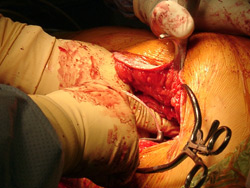 Sharp ends of metal cables can cut a surgeon's gloves, which can lead to infection in the surgeon and patient. SuperCable's flexible polymer design eliminates that potential for sharps injury.
---
Patents
US Patent Nos. 6,589,246, 7,207,090, 8,469,967, and 9,107,720. Europe Patent Nos. 1,389,940, 1,781,961 and 2,432,401. Japan Patent Nos. 4,829,236 and 5,938,095. Turkey Patent Nos. TR201309922T4 and TR201405440T4. Additional US and world patents pending.